Lone Star Heiress & The Runaway Bride
(eBook)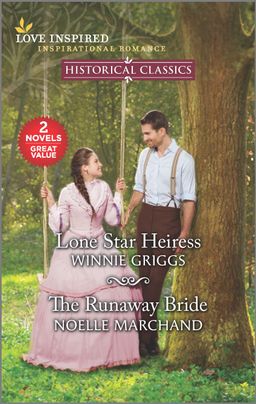 Lone Star Heiress & The Runaway Bride
About this Book
A groom to the rescue

Lone Star Heiress by Winnie Griggs

Adventurous Ivy Feagan is headed to Turnabout, Texas, to claim an inheritance when an accident leads to an unexpected rescue by widowed schoolteacher Mitch Parker. But when town gossips target Mitch and Ivy's friendship, he proposes to save her reputation. Ivy doesn't want to marry for honor and doesn't need to marry for money. She'll only agree to a proposal made for love's sake!

The Runaway Bride by Noelle Marchand

Leaving town for a fresh start, runaway bride Lorelei Wilkins never suspects her parents will send Sheriff Sean O'Brien—the only husband she's ever wanted—to bring her home! After an innocent mistake leaves Lorelei and her reluctant rescuer with compromised reputations, marriage is their only option. Will this inconvenient groom and stubborn bride realize that only love can conquer all?