Pony Express Courtship and The Express Rider's Lady
(Paperback)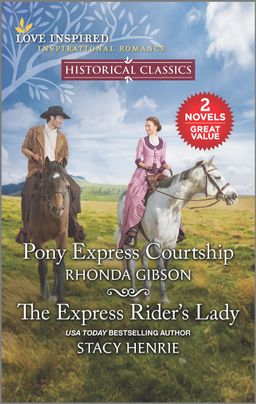 Pony Express Courtship and The Express Rider's Lady
About this Book
Faith, determination…and love?

Pony Express Courtship by Rhonda Gibson

Turning her farm into a Pony Express station is the only way for recently widowed Rebecca Young to provide for her seven adopted sons and her young daughter. It also means contending with new station manager Seth Armstrong as he trains her boys to be riders. But Rebecca soon sees he has her children's best interests at heart—and perhaps hers, too…

The Express Rider's Lady by Stacy Henrie

Delsie Radford is determined to go to California for her sister's wedding, no matter the danger or difficulty. And she's found the perfect escort in Pony Express rider Myles Patton. Myles is certain the pretty socialite will quit before they reach their destination. But the longer they ride together, the more he notices the toughness and kindness beneath Delsie's polished exterior. Though they may be worlds apart…they might just be perfect for each other.