Pacific Northwest K-9 Unit Books 7-9
(eBook)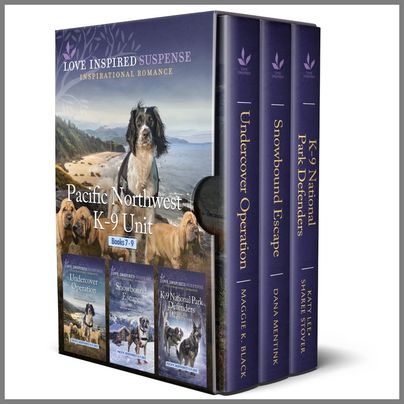 Pacific Northwest K-9 Unit Books 7-9
About this Book
Love Inspired Suspense brings you three full-length stories in one collection! Enjoy action-packed stories in the Pacific Northwest K-9 Unit series featuring K-9 crime-stoppers solving thrilling mysteries that will keep you on the edge of your seat!
This box set includes:

UNDERCOVER OPERATION
by USA Today bestselling author Maggie K. Black
K-9 officer Asher Gilmore and trainer Peyton Burns have two tasks: rescue three stolen bloodhound puppies and expose a drug ring. To outwit the criminals, they must go undercover as married smugglers with the help of an underwater-detection dog. But infiltrating the crime ring proves more dangerous than expected…

SNOWBOUND ESCAPE
by USA Today bestselling author Dana Mentink
After months of tracking a colleague falsely accused of double homicide, officer Tanner Ford and his K-9 partner finally locate crime tech Mara Gilmore—but the real murderer is closing in. Forced to run into a frozen wilderness to survive, can Tanner protect Mara from a vicious assailant…before the harsh winter conditions bury them?

K-9 NATIONAL PARK DEFENDERS
by Katy Lee and Sharee Stover
Members of the Pacific Northwest K-9 Unit are in a race against time in these holiday novellas. Can rival officers Veronica Eastwood and Parker Walsh work together to save Veronica's sister in Katy Lee's Yuletide Ransom? And can K-9 officers Dylan Jeong and Brandie Weller stop a bomber out for revenge in Sharee Stover's Holiday Rescue Countdown?

Look for the complete Pacific Northwest K-9 Unit series!

From Love Inspired Suspense: Courage. Danger. Faith.