Alaska K-9 Unit Books 5-8
(eBook)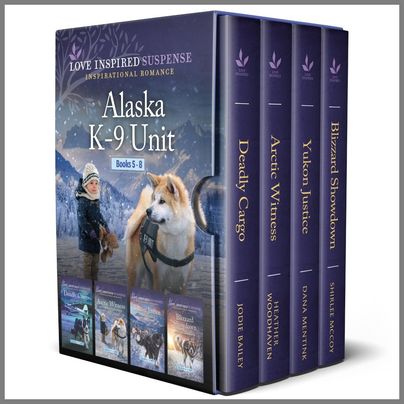 Alaska K-9 Unit Books 5-8
About this Book
Love Inspired Suspense brings you four full-length stories in one collection! Enjoy action-packed stories in the Alaska K-9 Unit series featuring K-9 crime-stoppers solving thrilling mysteries that will keep you on the edge of your seat!

This box set includes:
DEADLY CARGO
by USA Today bestselling author Jodie Bailey
Following an anonymous tip, K-9 Trooper Will Stryker's drug trafficking investigation has a new suspect—Jasmine Jefferson, an Alaskan bush pilot he's convinced is hiding something. But when someone tries to kill them, Jasmine confesses she's in witness protection. Are the attacks related to the case…or is someone out for revenge?

ARCTIC WITNESS
by Heather Woodhaven
When his ex-wife goes missing, Alaska State Trooper Sean West and his K-9 partner rescue her from a kidnapper. Now the criminal is on their trail, and it's up to Sean to protect Ivy and the little boy she plans to adopt…before they're silenced for good.

YUKON JUSTICE
by USA Today bestselling author Dana Mentink
With her ruthless uncle sabotaging her family's reindeer ranch, K-9 team assistant Katie Kapowski heads home to help—and becomes his target. Alaska State Trooper Brayden Ford and his K-9 partner are the last team Katie wants assigned to guard her. With their rocky past, can they work together…and survive?

BLIZZARD SHOWDOWN
by New York Times bestselling author Shirlee McCoy
After months of searching for Violet Jones, Gabriel Runyon and his K-9 finally track her down—just in time to save her from her ex-fiancé. Now they must keep the single mother and her newborn daughter safe. But with a storm rolling in, they'll have to outrun a blizzard and an enemy who wants Violet dead…

Look for the complete Alaska K-9 Unit series!

From Love Inspired Suspense: Courage. Danger. Faith.