Alaska K-9 Unit Books 1-4
(eBook)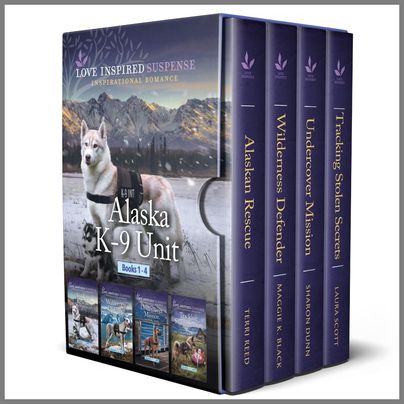 Alaska K-9 Unit Books 1-4
About this Book
Love Inspired Suspense brings you four full-length stories in one collection! Enjoy action-packed stories in the Alaska K-9 Unit series featuring K-9 crime-stoppers solving thrilling mysteries that will keep you on the edge of your seat!

This box set includes:

ALASKAN RESCUE
by Terri Reed
Sent to find a wedding party that disappeared during a hike, Alaska State Trooper Hunter McCord discovers bridesmaid Ariel Potter hanging from a cliff. Now it's up to Hunter and his K-9 partner to find Ariel's missing companions…and make sure whoever wants Ariel dead doesn't finish the job.

WILDERNESS DEFENDER
by USA Today bestselling author Maggie K. Black
With murderous poachers targeting blue bear cubs, Alaska trooper Poppy Walsh and her K-9 partner will do whatever it takes to stop them. But having to team up with her ex-fiancé, park ranger Lex Fielding, will be her biggest test. Can Poppy and Lex overcome their past to save the cubs and protect Lex's young son?

UNDERCOVER MISSION
by USA Today bestselling author Sharon Dunn
Undercover on a cruise ship with her K-9 dog, Alaska State Trooper Maya Rodriguez uses herself as bait for a murderer—and quickly becomes a target. With security officer David Garrison's help, they must work to stay one step ahead of a possible serial killer. But will they make it off the ship alive?

TRACKING STOLEN SECRETS
by USA Today bestselling author Laura Scott
Positive her sister isn't involved in a theft ring as the police believe, Alaska trooper Helena Maddox and her K-9 must find her twin before officer Everett Brand does. But when the niece Helena didn't know existed is left on Everett's doorstep, Helena and Everett must work together to keep the baby safe.

Look for the complete Alaska K-9 Unit series!

From Love Inspired Suspense: Courage. Danger. Faith.