The Marriage Agreement and Shotgun Marriage
(eBook)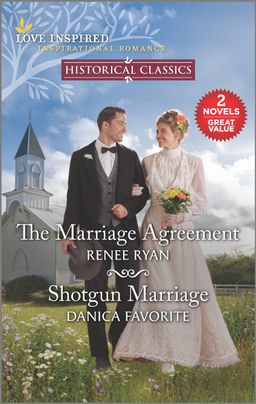 The Marriage Agreement and Shotgun Marriage
About this Book
First comes marriage

then comes…love?

The Marriage Agreement by Renee Ryan

Hotel owner Jonathon Hawkins knows firsthand that gossip can destroy lives in an instant. So when he and his employee Fanny Mitchell are caught in an unexpected kiss at a ball, he proposes a marriage of convenience. Jonathon believes he can keep his heart to himself. But the more time he spends with Fanny, the more he realizes he may just be in love—with his wife!

Shotgun Marriage by Danica Favorite

Forced to wed to protect their reputations, Emma Jane and Jasper Jackson's marriage is one in name only. Resenting the choices taken from him, Jasper's determined not to lose his heart. A true bond between them seems impossible…until their ordeal leaves Emma Jane caring for an orphaned baby. In reach now is the one thing neither expected—the chance to turn a convenient marriage into a forever family.